Composite Image Space Performances:
Composite Image Space performance choreographed entirely over the PictureTel video-conferencing system by Dawn Stoppiello and Mark Coniglio in Santa Monica and Illan in New York. Final performance performed live in Virtual Space via the CLI Compressed Motion Video System connected between New York and Santa Monica by a T-1 line. Performance included MIDI for MidiDancer music, Disklavier, and stage lighting controls. On screen in both NY & LA, Dawn (LA), Illan (NY) appear to be dancing in the same space. The Midi Dancer suit worn by Dawn in LA controls the music in NY. Music composition and programming, Mark Coniglio.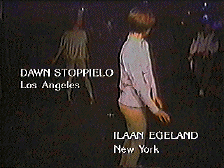 3000 miles apart, Dawn Stoppielo and Ilaan Egeland perform together.
Graham Nash in LA plays with violinist Todd Reynolds in NY. They meet for first time in composite image space and play together on one of Graham's new songs. Audio for Nash and all vocal musicians is processed through a ATP Audio Codec using three ISDN lines for CD quality sound.

Todd Reynolds and Graham Nash duet in cyberspace.
The MTV Dancers from New York and Santa Monica danced together for the first time via T1 (see sidebar).
Telepoetry:
From NY, Bob Holman performing a poem rap about ECI with Merilene M. Murphy in Santa Monica. They appeared together live on screen in both NY & LA.
Thomas Dolby:
Performance of his wireless One-man Band, synthesizer/sequencer, voice. Dolby moves freely throughout the cafe while transmitting CD quality audio and T1 quality video. There is a short video of this segment which was posted to the info-mac archive in 1993.